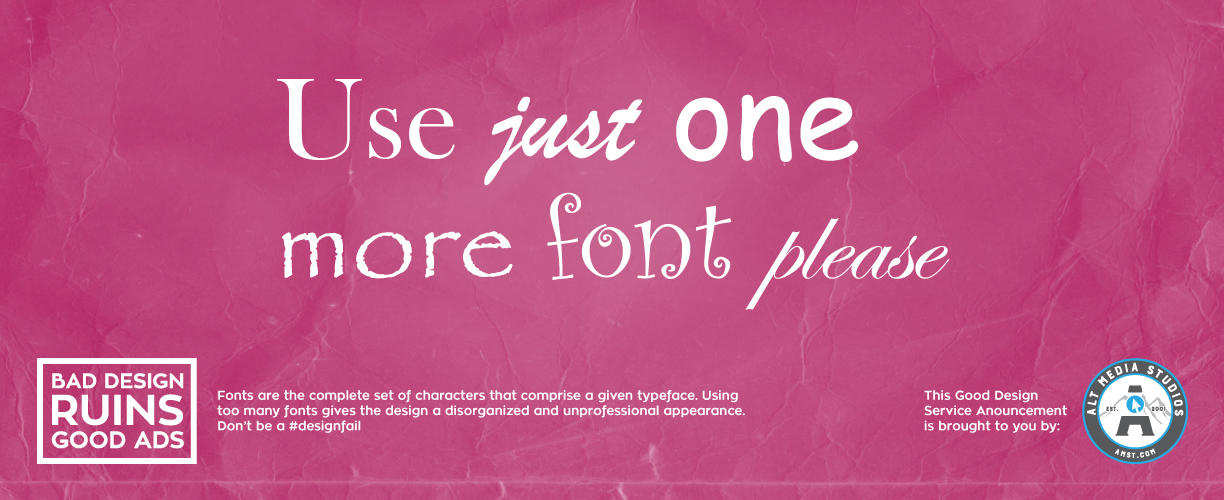 No! Don't do it! Put away some of those fonts!
You know what I'm talking about, you've all seen those posters/ads/billboards that use more font types than there are sentences in the whole ad. That's never a good sign. Just remember: less is more. It's such a popular cliche because it's so very true. Most of the ads (print or digital) that I design here will only feature 2 fonts. I will choose a font to use for the main text, so any large headers or important pieces of information that I want people to see first. Then I choose a secondary font, something a little simpler in style than the first, for the body text. I like to use a sans-serif or a clean classic serif font for large bodies of text because the lack of overly decorative ligatures creates very clean lines that are easy to read, especially when the font is small. I never want to create an ad for my customers that looks disorganized or unprofessional so I will never include 5, 6, 7 different fonts just because they look cool or because I really want to use them somewhere. I want customers and potential customers to see and focus on the message I'm trying to convey, not the fonts that I'm using to convey it.
So don't be a #designfail, just put the fonts away and save them for another day.