Google Partners Connect - Build a local search presence
(To stream the entire presentation, please scroll to the bottom of the page...
Today Alt Media Studios took part in celebrating National Small Business week by tuning into Google's livestream. We connected with them and hosted an event, showing those in attendance how to get in front of customers in our area. Among the things discussed were consumer trends related to local searches, and we shared best practices for using Google My Business features, like posts and reviews, so that you as the business owner could put your best foot forward. Further, as a certified Google Partner, we are always available to help you get the most of your online investment through digital marketing - like SEO, social media marketing, content writing, and Google AdWords campaign management.
Here is a summary of what was presented by our friends at Google in Mountain View, California (where the livestream was broadcast from).
The first presenter was Jessie Hochhalter, Global Programs Lead, Partner Enablement at Google. To view Jessie's LinkedIn profile, click here.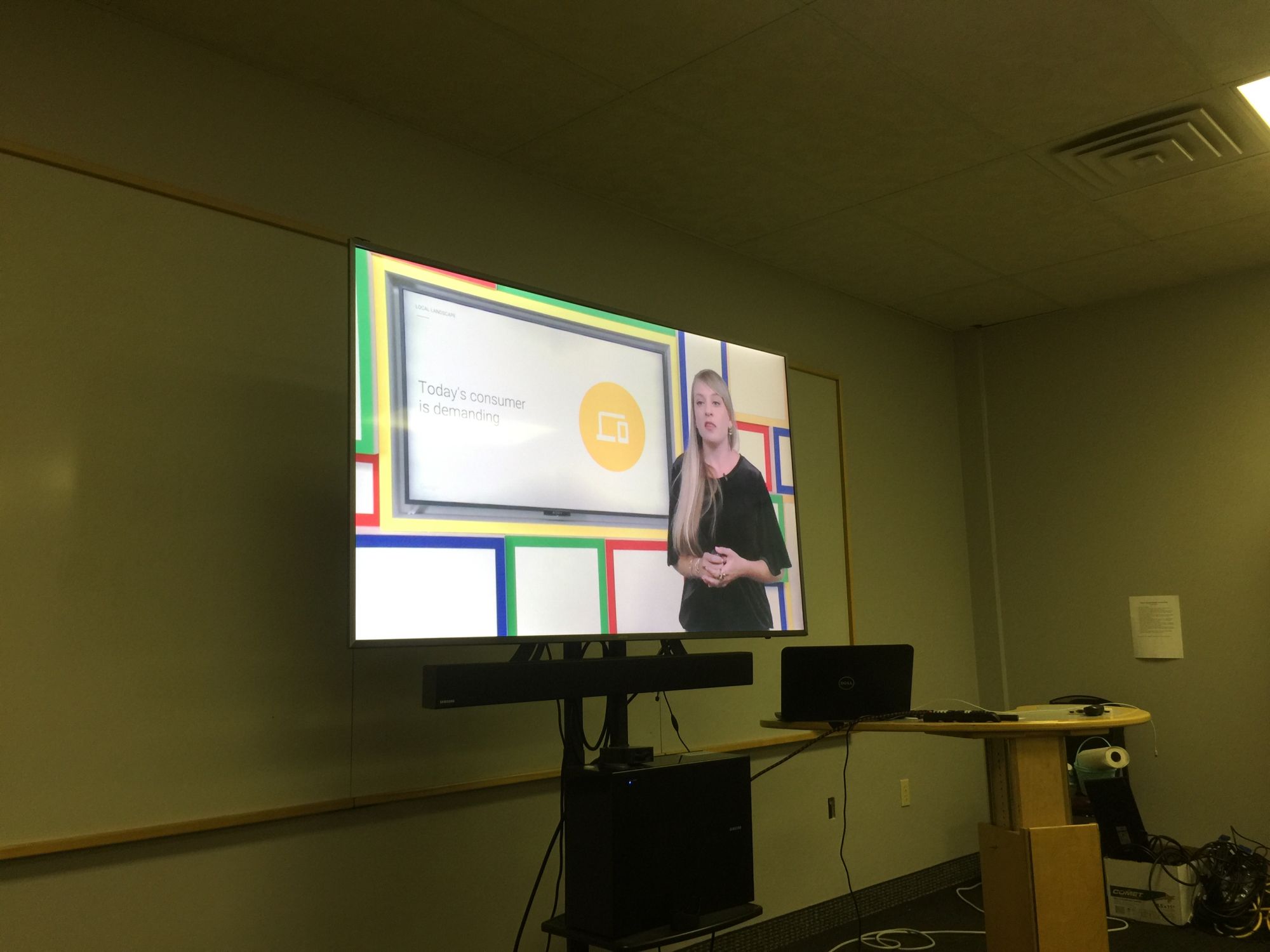 Notice some interesting current trends with mobile search activity:
87% of smartphone owners turn to search first in a moment of need
30% of all mobile searches are related to location
Further, today's consumer is...Curious, Demanding, and Impatient. The search for "best travel pillow" has increased in the last few years by 300%. Every decision we make has to be an informed one...this is where you as the business owner comes into place. 80% growth in Mobile searches for "best" in the past two years. Specificity has increased.
People still expect accurate information though they are less free to share their location and other information. Marketers need to keep this in mind.
Interestingly, there is a 3x increase in 'open now' searches. People need to know where they can go to get a service and where that shop, store or clinic is truly open when they need it to be.

Jessie next mentioned viewers about the Google Partner program - we (Alt Media Studios) hold a party viewing program. What does it mean to be a Google Partner? As Partners, we must pass their exams, manage a significant investment for running ads on their search engine, and follow their standards for web and ad practice.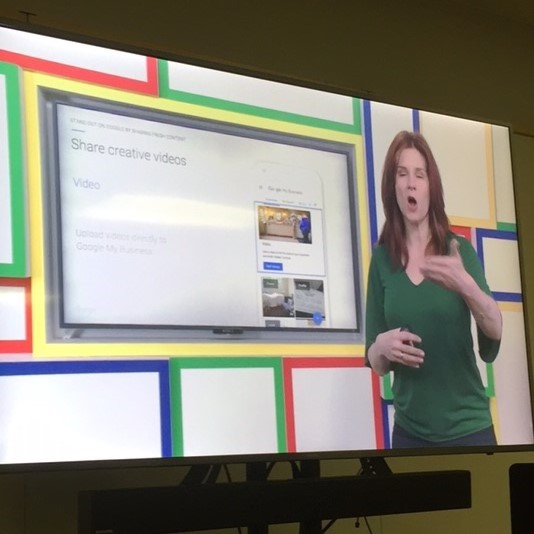 The next speaker in line was Stasia Kudrez, SMB Lead Educator, Google. She spoke on the subject How Google can help you reach local customers. (To view Stasia's professional LinkedIn profile, click here...)
She began her presentation with a very interesting video demonstration of a small business that originated in the Los Angeles/Culver City are. The name of the business is Coolhaus. They've grown with the help of having a strong Google presence, to where they enjoy distributing 24 of their products in 5,000 grocery stores.
Attract local customers with Google My Business: 3 out of 4 online customers use a search engine to find a business. Example: Pie Junkie (OKC)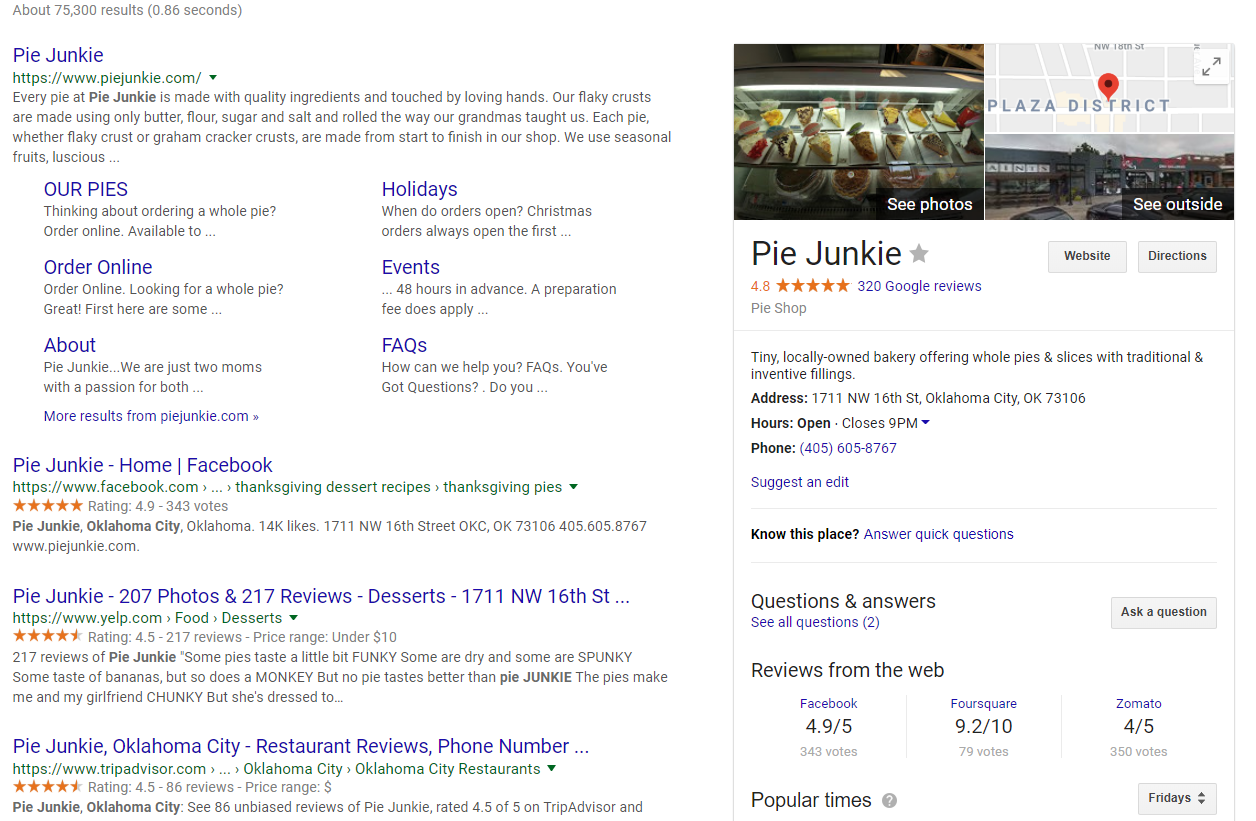 Share posts to tell customers what's new (50% looking for promotions or discounts. Example: Southern Supper Series: Gettin' Pickled. This post will appear to customers for 7 days. If it's an event, it will come down after the event has passed. This allows you to keep your business listing up to date and allows you to view event history on mobile.
Other examples:
1) Announcements - Tecovas Showroom
2) Events - Missouri Star Quilt Company
3) Products - The Natural Baby Company
4) Business info - The Natural Baby Company
5) Offers - Wonderful Bakery

5 keys to writing a post
Choose the right post type
Use high quality visuals
Write a clear title
Provide details
Include a call to action
Don't bury the lead - tell them just enough within 150-300 characters.
Want to know views/engagements on your business page? Use a variety of posts and then see which ones are resonating with people. Sign into your dashboard and view analytics. Share creative videos. Upload videos directly to Google My Business.
Create a free website from your listing. This results in generally 35-45% more clicks.
Create your GMB listing and then it pulls information into a template website that best fits personality of your business.
1) Website templates
2) Photos
3) Business descriptions
4) Contact forms
5) Posts

Engage with local customers
Reviews - be the first to know when a new review goes up and respond to offer:
1) Answers to questions
2) Solutions to problems
3) A thank you to happy customers

2 out of 3 see positive review as an important buying criteria

Go to Google's hub and use reviews: smallthanks.withgoogle.com, get materials to help people review you!

Calls
Make it easier for customers to get in touch
90% more likely to visit a business when they see it in a map result

Bookings
Customers can book appointments, fast

Messages
Keep customers happy with quick answers
Use messaging to receive and respond to text messages

Questions and Answers
Answer customer questions on Google
Answer questions from potential customers, highlight top responses, and add frequently
See what's working
Insights
View the number of searches for your business, posts, photos, and more.
You can see a direct search (for someone who knows the name of the business)
Discovery search - didn't know name but did know product or service (i.e., facials or skin care, opportunity for small business to show up)
You can see how many times these searches resulted in a call to your business, clicked to go to your website, requested directions to get to your shop, etc.

Promote your business with an ad on Google
Ads
Ads are a great way to catch the eyes of people looking for your services.
Many of you may already be using ads on Google. If you're watching, you are with a Google Partner who can help refine your ad investment to reach more or better qualified leads.

Tips - Create ads that promote your local business
1) Create ads that reach local customers and different ads for a wider audience
2) Connect to Google My Business to show address info with ads
3) Track conversions, including phone calls

Verify and manage your business listing
Search for your business on gybo.com/business

Select your business or add it
Verify your business Need help? Visit support.google.com/business

Q&A
Multiple locations, how to manage GMB listings. If less than 10, manually enter each one. If past 10, you can do bulk upload. Make edits in spreadsheet or use API.
Does having a GMB listing negate the need to have a website? Absolutely no. Increases business online real estate. They are two separate things.
Adds brand awareness but does not add quality score for your ads.
One question - voice search. 30% are voice activated (search activity).

How quickly can my site load? This was our question - Google Analytics should tell you. Shoot for 3 seconds, if takes longer than the whole thing, make sure that the info above the fold loads first. Use testmysite.thinkwithgoogle.com as a test for mobile speed.
To watch the segment of the video exactly where we received special mention, click below!
After the presentation, we enjoyed an interactive in-room Q&A regarding negative reviews, access to GMB listings where access is forgotten or misplaced.
We hope to see you at our next Google Partners Connect event. We normally host one a month, so please stay tuned by signing up for our mailing list or joining us on social media to stay privy to where and when the next event will be! You can also contact us anytime for your website or digital marketing needs.